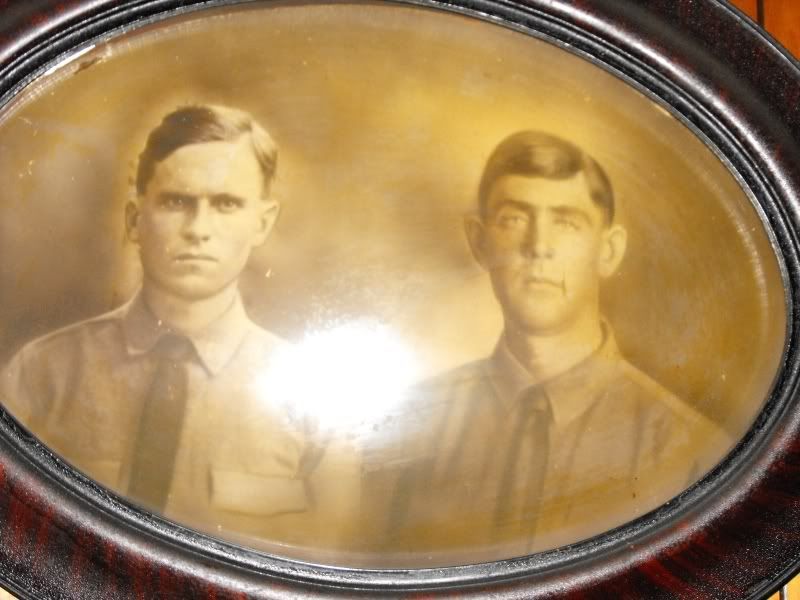 I recently made a trip to the next state to visit (and check on-but don't tell him that part!) my elderly bachelor uncle. While I was there, I tried to take a picture of this family picture. It has been on my grandmother's wall my entire life--I'm 57, so that's a long time. It's in an old oval frame with the convex glass.
The handsome man on the left is my grandfather, Hester Jones. The handsome young man on the right is his best friend, Bill Walker. Pa and Bill joined and went off to World War I together, and were lucky enough to serve together. Pa caught influenza and spent time in the hospital in France. I have letters that he wrote home during that time--a treasure. Pa survived the flu, came home, married, and raised a family. Bill never made it home, but he always had a place of honor in my grandparent's house.
When my grandmother died, my uncle gave me the family pictures, which included almost as many of Bill as the family. I tried for years to find a descendant, although I knew he never married. I hoped to track down a niece or nephew in that small community, but I was never able to find anyone. So, my family picture albums include this nice young man.
I had hoped to get a picture that was good enough for me to have a copy made for myself. I'm afraid that, even if he would permit it, there is no way it would survive being removed from the frame and copied. This was the best I could do. I may try to find someone who is a photoshop genius to see what they can do. In the meantime, I can look at it on my computer.
I also took a picture of this one--my grandfather's parents. He was a circuit preacher. He farmed all week, and on Friday night, he saddled up his mule and visited his churches, Monday morning, he went back to his farm.